Video Solutions for Graduate Medical Education Programs
In these clinical learning environments, the guidance and supervision of the qualified faculty members is paramount to training and preparing residents and fellows. A modern AV system can improve the frequency, quality and educational guidance of supervision through video streaming and recording of patient interactions.
VALT was built from the ground up for clinical education programs. The VALT solution makes video observation and recording simple and effective yet provides powerful tools to meet all the confidentially and security needs of a functioning clinical environment. Beyond standard supervision requirements VALT can become a valuable educational and research tool for Clinic Directors, Supervisors and Students. The intuitive, easy to use browser interface can provide critical feedback and evaluation for both the student while comprehensive reporting tools can map patient progress and build a powerful research database.
HD Camera Support
Our software integrates with the full line of Axis IP cameras. We can capture and stream HD content at resolutions beyond 1080p.
Digital Zoom
Digitally zoom in either during live observation or when reviewing a video recording. This feature is especially useful when our solution is paired with HD cameras.
Multi View
Quickly change views from single camera to 2×2 to 3×3 to several other possible layouts. Users are able to observe up to nine rooms simultaneously.
Browser Interface
Easy to use intuitive browser-based software interface works on Mac, PC or Mobile. This simplifies deployment and allows users to debrief and observe videos from any authorized device.
Scalability
VM friendly software or support up to 50+ cameras on a single IVS appliance, with the ability to chain multiple servers together allowing a single software instance to easily manage hundreds of cameras.
Scheduler
This allows users to schedule recordings in advance. The schedule can be set to automatically recur on a daily, weekly or monthly basis allowing for complete automation of the recording process. The scheduler also integrates with pan-tilt-zoom (PTZ) cameras to automatically reposition the camera to the area of interest at the beginning of the scheduled recording(s).
Integration & Features
Due to the fact that VALT has been built from the ground up for use with industry standard IP video cameras, VALT is extremely simple, cost effective and straightforward to deploy and integrate into today's IT infrastructure. The IP video cameras capture perfectly synchronized high quality audio using industry standard equipment. If your application includes the need to capture HDMI streams or screen capture from a user observing a tablet or monitor we can easily integrate those streams into solution providing a content rich learning experience.
VALT may deployed by utilizing an IVS purpose built video appliance or by spinning up your own Ubuntu VM and running VALT on your own infrastructure. VALT is accessed via a browser and is easily accessed via PC, MAC or tablet devices. Permissions and rights are managed by user access. Users may easily be imported via LDAP.
Camera Grouping
Group multiple cameras or encoders together into a single room. Grouped cameras start recording together and also playback together in a synchronized fashion.
Button & LED
Start and stop recording with the push of a button or the swipe of a RFID card reader. The system also integrates LEDs providing a visual indicator as to when a recording is active.
HDMI Encoder
The software integrates seamlessly with third-party HDMI encoding hardware, allowing users to capture laptop/PC content such as PowerPoints and Vital Monitors and automatically pair and synchronize it with video cameras.
LDAP Integration
Automatically import LDAP users into the system and assign them to the proper VALT user group. This allows users to use their same network login information to access our system while completely automating the user management process.
Beam for Education & Training
It also goes without saying that training can happen anywhere and at any time; hence the reason for the development of Beam. Beam allows you to not only quickly set up and record anywhere at any time, it also allows you to stream or broadcast that recording live as long you have you access to the VALT server via a wireless network. Beam integrates perfectly with VALT and provides a simple and secure method of addressing your mobile training and educational needs. Beam is currently being deployed on any industry standard iOS enabled device.
Capture Content Anywhere
Easily capture and stream video content from any iOS device.
HD Video Capture
Record in resolutions up to 1080p using either the front or rear camera.
Upload
The Beam application can be set to upload captured videos either automatically or on-demand.
Ease of Use
The mobile capture application is easy to deploy and use. The video management and sharing can be completely automated using our back end VALT application.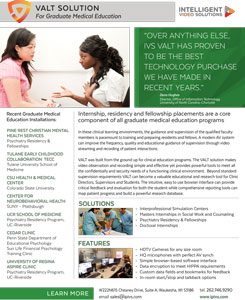 VALT for Graduate Medical Education