HD Video & High Quality Audio
Our software integrates with the latest IP camera technology. Observe in real-time or review recorded high definition video in 1080p resolution. Auto-gaining discrete microphones provide high-quality perfectly synchronized audio, great for picking up soft voices.
Searchable Database
All of the videos are stored and managed by a built-in searchable database. Tag videos with data such as patient name or therapy type for easy lookup and review.
Markers
Tag specific points within a recording either during live observation or during the review process. These points can have searchable descriptions associated with them. These "markers" are great for providing feedback or can be used for research purposes. A marker allows users to easily jump right to that point in the video similar to chapters in a DVD.
Security & Compliance
With comprehensive user management rights, a detailed audit log and optional encryption, our video solution offers some of the most advanced security features in the market. These built-in features can help maintain your clinics' compliance standards (HIPAA/HITECH).
Recording Solutions for Child Development Studies
Child studies and development is a branch of education theory that involves the teaching of young children. The practice of early childhood education has been gaining significant traction and has become a prevalent public policy issue. This key initiative has brought about many new teaching strategies and technologies for use in child development and the use of digital video recording systems is prominent component.
The VALT (Video Audio Learning Tool) digital video recording system for child studies and development uses state-of-the-art equipment to assist teachers who are educating young children. Educators can record development sessions and analyze the content to increase teaching efficiency, develop new skill sets, and improve the efficacy of individual lesson plans. Recording child development as it progresses also allows educators to build and organize a digital video library for use in training other teachers and administrators.
VALT Digital Video Equipment for Early Childhood Education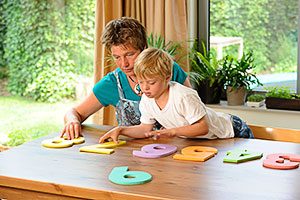 The VALT system is an inexpensive and powerful tool for use in recording child studies. VALT employs a central server to store all video content, dispensing with the need for bulky equipment in each classroom. Content is fed to the server by high-quality and lightweight IP cameras, paired with auto-gain microphones that produce crisp, clear sound with no background hum. We offer a broad range of both fixed and movable pan-tilt-zoom (PTZ) cameras, and multiple cameras can be placed in each classroom to provide several different viewing angles.
Video is recorded in standard .mp4 format and is viewable by anyone with proper access using nothing but a common internet browser, such as Firefox, Chrome, or Safari. No special viewing equipment is required — any PC, tablet, or smartphone with an internet browser can access the video library. A typical VALT installation has enough storage space for nearly 16,000 hours of high-definition video.
Recordings of child studies can be started and stopped remotely, or by an instructor in the classroom. Once recorded, the video is immediately available on the network for viewing with no delay.
VALT Child Studies & Development Video Software
Each video session can be annotated with instructor notes, and every session is tagged with metadata to facilitate categorization and search. All video is fully encrypted, and administrators have full control over user permissions and the videos they are allowed to access.
VALT also features an optional "talkback" add-on that allows remote viewers to communicate in real-time with an instructor in the classroom without interrupting the teaching process. VALT cameras and microphones are light and extremely portable, letting departments set up and record early childhood educational sessions off-site. Any smartphone or tablet running the Beam mobile capture application can record the content, which is then integrated with the rest of the VALT video content when the operator returns to the main server.
Child development programs can opt for a turnkey solution from IVS, which can be implemented by internal IT departments, technology groups, or by a third-party AV/IT integrator. IVS works closely with each department to ensure a fully successful VALT video installation. Contact us at IVS to schedule a product demonstration or to request a quote.