HD PTZ Camera Support
Easily control HD pan-tilt-zoom (PTZ) cameras through our software interface. We can also create or jump to predefined positions called "presets" when our system is paired with PTZ enabled cameras.
Camera Grouping
Group up to nine cameras or encoders together into a single room or view. Grouped cameras start recording together and playback together in a synchronized fashion.
Encoder Support
The software integrates seamlessly with third-party encoding hardware. This allows us to capture content from different sources such as vital monitors or computers running manikin control software and automatically pair it with video cameras.
Markers
Tag specific points within a recording either during live observation or during the review process. These points can have searchable descriptions associated with them and are great for debriefing. These "markers" allow users to easily jump right to that point in the video, similar to chapters in a DVD.
Simulation Lab Recording Solution
Clinical simulation laboratories are used by the medical and nursing colleges of numerous universities to simulate various clinical settings and to offer students the chance to work in a hands-on environment to enhance their communicative, technical, critical-thinking, and decision-making skill set.
Simulation in nursing and medical education has been expanding to a number of fields, including laparoscopic surgery simulations, team-training simulations, surgical tech simulations, robotic-assisted surgery simulations, and more.
Using video to record clinical simulation labs enables both instructors and students to review recorded lab sessions and has been demonstrated to increase greatly the effectiveness of learning during clinical simulation lab.
The VALT audio-video solution for medical simulation labs is a powerful, yet easy-to-use platform that entirely dispenses with bulky video equipment in each room. Instead, our Video Audio Learning Tool (VALT) operates from a central server that can handle dozens of clinical rooms at one time. High definition IP cameras are joined with auto-gaining microphones, creating an incomparable clinical simulation lab observation, assessment and review experience for students and faculty.
VALT Case Study: WLC Nursing Simulation
Click on the play button to find out how WLC is using VALT for nursing simulation training. Learn More >
Multi-department Install
Click on the play button to find out how MRU uses VALT in their child development and nursing simulation labs. Learn More >
VALT Software Demonstration
Click on the play button for an abbreviated demonstration of the VALT software. Learn More >
VALT for Audio/Video Observation in Medical Simulation Labs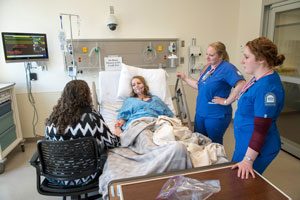 The VALT system can handle dozens of cameras simultaneously, and any individual simulation room can be set up with multiple fixed or movable PTZ cameras. Instructors can begin and end recording sessions remotely, or from within the simulation room itself by using a wall-mounted button. Additionally, our "talkback" feature allows instructors to communicate with students in real-time during a clinical simulation. Confidential simulations can be segmented so only the users with proper access can watch live and review the recorded content. VALT is also the perfect system to help conduct simulation testing scenarios or standardized patient training events with the ability to build in custom evaluation forms that can be used to grade students on demonstrated clinical skills during the simulation.
Video is stored on the VALT central server and is accessible by anyone with the necessary permissions using nothing more than a common Internet browser — no special equipment is required for viewing. Individual sessions can be tagged with notes, and all are stamped with metadata that makes it easy to locate and view a recorded clinical simulation lab session.
Clinical Simulation Recording & Debriefing Software
The VALT system can be easily adapted and deployed to meet any size of installation, from small setups, such as a single lab room, to large operations, such as a mock surgical suite, comprised of several labs. VALT video uses MP4 file formatting and h.264 video compression, which minimizes network demands and permits video to be immediately available on the server, with no lag-time associated with video rendering or exporting. A typical VALT clinical simulation lab video capture system stores around 16,000 hours of high-definition video — the length of time video sessions are maintained is determined by administrators using predetermined settings.
The IVS Beam mobile capture platform is an iOS application that can turn any iPhone or iPad into a mobile recording platform. This allows departments to record clinical simulation labs off-site with nothing more than a smartphone or a tablet. Once the operator returns to the local network, the video automatically syncs with the server and the off-site video sessions are immediately available for viewing. Beam is perfect for off-site recording of medical simulation labs.
Video Recording System for High Fidelity Manikins
VALT video sessions use state-of-the-art encryption, user rights management, and user authentication, ensuring that only users with proper access can view clinical simulation lab recordings. Departments may adopt a turnkey solution from IVS, which can be implemented by internal IT departments, technology groups, or by a third-party AV/IT integrator. The VALT software works HDMI encoders to allow the capture and synchronization of vital information from static or high fidelity manikins along with the clinical skills video. Regardless of the chosen implementation, IVS works closely with each department to ensure a fully successful VALT video installation. Contact IVS with any questions, to request a quote, or to schedule a demo of the VALT system.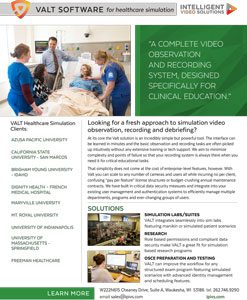 VALT Software for Healthcare Simulation