HD Video & High Quality Audio
The VALT software integrates with the latest IP camera technology. Observe in real-time or review recorded high definition video in 1080p resolution. Auto-gaining discrete microphones provide high-quality perfectly synchronized audio, great for picking up soft voices.
Scalability
A single software instance can support an unlimited number of cameras, users, and departments while keeping content segmented and secure.
Markers
Tag specific points within a recording either during live observation or during the review process. These points can have associated and searchable descriptions. These "markers" are great for providing feedback or can be used for research purposes. A marker allows users to easily jump right to that point in the video, similar to chapters in a DVD.
Security & Compliance
With comprehensive user management rights, a detailed audit log and optional encryption, our video solution offers some of the most advanced security features in the market. These built-in features can help maintain your compliance standards for clinical research video (HIPAA/HITECH).
IVS Video Solution for University Research Centers
Most large universities have a number of campus research centers — faculty-led organizations that aim to improve and augment research on a wide variety of topics, including human behavioral sciences, policy analysis, educational technologies, research on the sciences, and organizational research, to name but a few.
Digital video solutions are increasingly a necessary tool for research centers to ensure accurate data collection and dissemination, especially for campus labs that focus on human behavior or skills development. Digital video gives you the ability to conduct a more accurate analysis, improve future methodology, and build a comprehensive digital library of individual lab sessions.
IVS Digital Video for Campus Research Labs
VALT (Video Audio Learning Tool) is a digital recording solution for campus research centers, employing cutting-edge IP camera technology and audio, producing high-definition and high-resolution video of research labs. All video is piped to a central server, eliminating any need to have recording equipment in the lab itself. Central storage lets you assemble a huge digital library of all recording sessions from all of the various research centers on campus.
VALT video is perfect for both large and small universities — it is portable yet fully scalable, able to handle dozens of research labs at the same time, as well as several cameras per room to give you more viewing angles. The central server can handle tens of thousands of hours of digital video footage, and research lab recordings can be watched remotely by any authorized person, using nothing more than a common internet browser.
Our software has been designed in such a way that many departments can share the same back end hardware and software instance while all having only access to their specific content. This allows for a shared infrastructure and support cost model that can translate into a big cost savings both upfront and down the road.
VALT Software for Recording Research Centers and Labs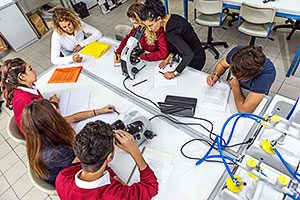 VALT uses state-of-the-art video management software to record labs. Video is rendered in MP4 format and compressed, minimizing network demands and allowing easy sharing and storing of research center video sessions with any user that has the appropriate permissions.
The vast storage space makes it easy to build a digital video library of campus research labs. Video is supplied with metadata and you can also tag video with special time-specific "markers". These features make video annotation and recall extremely easy, and allow you to set up specific video segments as instructional sessions.
Our research lab recording software comes with a scheduler feature, allowing you to set up recordings ahead of time — these can even repeat daily, weekly, or monthly. Another optional feature is "talkbalk", a system in which remote observers can communicate with the research lab personnel though small earbuds.
Mobile Recording of Campus Research Labs
We offer yet another way to let your university record research labs off-campus — our Beam app. Beam turns your phone or tablet into a mobile recording studio, allowing you to set up in seconds and record any off-site research sessions. With Beam there is no need to worry about video rendering or uploading – Beam recordings are automatically synced with the VALT server and added to your video library.
Security of VALT Video
The VALT video software for university research centers provides all necessary user rights management, encryption, network architecture, and authentication required to make all clinical video content fully secure. Video sessions are available only to those who possess the necessary permissions. Contact us to request a quote or to schedule a demonstration.