HD PTZ Camera Support
Easily control HD pan-tilt-zoom (PTZ) cameras through our software interface. We can also create or jump to predefined positions called "presets" when our system is paired with PTZ enabled cameras.
Video Retention
Video retention periods are set up at the user group level allowing for automatic deletion of videos after a certain period. With the proper user rights, users can edit the retention length of each individual recording.
Scheduler
Our built-in scheduler feature allows users to schedule recordings in advance. The schedule can be set to automatically recur on a daily, weekly or monthly basis allowing for complete automation of the recording process. The scheduler also integrates with PTZ cameras to automatically reposition the camera to the area of interest at the beginning of the scheduled recording(s).
Sharing
Built-in sharing tools allow users to easily share video with other user groups or individual users. Specific videos can be shared using direct URL access links. This can also be used to connect videos from our system to third-party software such as learning management system (LMS).
Lecture Capture with IVS VALT
More and more universities use video as a key component of the learning process. Lecture capture has recently become an essential tool that numerous universities have adopted as a key part of the learning process. Studies have shown that recording classroom lectures can improve student engagement and their ability to learn by allowing students to set their own learning pace by reviewing recorded lecture materials multiple times when convenient for them.
Recording classroom lectures is also an important tool for teacher training and education. Playback and analysis of recorded classroom presentations enables teachers to augment their professional skills and identify areas in need of improvement.
The VALT video classroom recording solution from Intelligent Video Solutions provides an integrated hardware and software installation, making lecture capture extremely easy. Our affordable lecture capture system uses state-of-the-art IP cameras paired with auto-gaining microphones, creating a seamless lecture review experience for students and faculty alike.
Classroom Video Recorder by VALT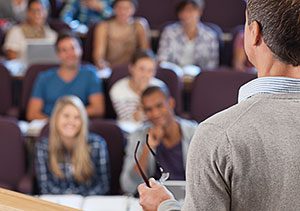 The VALT (video audio learning tool) solution dispenses with bulky analog or DVR equipment placed in each classroom. Instead, VALT video is stored in a central server location and has the ability to record video from dozens of cameras simultaneously. Both fixed and movable PTZ cameras may be placed in each classroom, and multiple cameras may be utilized to record from several different angles. Our IP cameras produce high-quality video, yet are unobtrusive and will not interfere with classroom activities. Instructors can start and stop any recording session from inside the classroom itself, using a button mounted on a wall or on any other surface.
How Powerful is the VALT Classroom Video Recording System?
The VALT system easily scales from small installations, such as a single classroom, to campus-wide deployments. Our video uses standard .mp4 formatting and h.264 video compression, minimizing demands on the network. Our typical and inexpensive lecture capture system stores around 16,000 hours of high-definition video and settings allow administrators to predetermine the length of time lecture captures are stored before being purged.
The VALT video system can even be used to record lectures or other events off-site, with no need to move bulky servers and other equipment. Our IP cameras and microphones are portable, and off-site lecture recording is captured with an iPad or iPhone running our dedicated Beam application. After you return to the main server, the video automatically syncs with the system and the video sessions are immediately available for viewing.
Classroom Capture Application by VALT
Our simple lecture capture application allows anybody with authorization and permissions to view recorded lecture sessions from any common device, such as a PC, smartphone, or tablet. When you record classroom lectures with video, that video is immediately available on the central server, with no lag time associated with rendering or video formatting. Additionally, each session is tagged with metadata, which ensures that students and instructors can locate any recorded lecture with ease. The VALT software for classroom capture is extremely easy to use, with little to no training required for students and instructors alike.
To view classroom lecture captures, students do not require any special equipment. Sessions can be viewed with any common internet browser, such as Firefox, Chrome, or Safari.
Privacy and Security of VALT Video for Classroom Capture
VALT employs stringent encryption, user permissions and rights management, and user authentication to fully secure all lecture capture video. Only people with the necessary permissions and authentication may access classroom lecture recordings.
Universities and colleges can opt for a turnkey solution from IVS, which may be installed by an internal IT department, technology group, or by a third-party AV/IT integrator. Regardless of the method chosen, IVS works with all customers to ensure a successful Valt video installation. Contact IVS to request a quote or to schedule a demonstration of the VALT system.