HD PTZ Camera Support
Control HD Pan-Tilt-Zoom (PTZ) cameras through our software interface using a mouse. The VALT software can also create or jump to predefined positions "presets" when our system is paired with PTZ enabled cameras.
Searchable Database
All of the videos are stored and managed by a built in searchable database. Tag videos with data like student/patient name or activity type for easy lookup and review.
Encoder Support
The software integrates seamlessly with third-party encoding hardware. This allows us to capture content from different sources such as vital monitors or computers running medical software and automatically pair and synchronize it with video cameras.
Security & Compliance
With comprehensive user management rights, a detailed audit log and optional encryption, our video solution offers some of the most advanced security features in the market. These built-in features can help maintain your clinics' compliance standards (HIPAA/HITECH).
Recording Solution for Physician Training
Direct observation is an important tool for teaching medical students general clinical skills, helping create standardized patient scenarios or supporting anesthesia training. Video allows assessment of physical examination expertise and communication skills. It also provides insight into the clinical reasoning capabilities of the student. Direct observation of medical students provides an easy assessment of competence, reinforces desired behaviors, and provides an early opportunity to remedy errors. Despite these advantages, residents and medical students report that being observed during clinical rotations is an infrequent event.
IVS offers a powerful and inexpensive solution — the VALT (Video Audio Learning Tool) system for observing and recording medical residency students during clinicals. The VALT system can support dozens of cameras and microphones simultaneously, dispensing with the need to have an actual human observer present at all times. Instructors and assessors can watch and assess recorded clinical sessions remotely, and at their leisure.
Live Observation for Standardized Patient Programs
With VALT, the students are hardly aware that they are being observed. VALT uses a central server to process and store all video content, so there is no bulky video equipment present in the room. All that is required in each room are our extremely portable and lightweight IP cameras, paired with high-quality auto-gaining microphones that eliminate hum and background noise.
Our broad range of IP cameras can be both fixed or PTZ, and multiple cameras may be placed in each room to provide several different viewing angles. Video can be started and stopped instantly from within the room itself, or by a remote observer.
Instructors and students can view clinical skills training sessions at any time using nothing more than a simple Internet browser, such as Firefox or Chrome. A standard Valt installation holds storage space for around 16,000 hours of the high-definition video though larger installs are available if needed. Each session is tagged with metadata, making it easy to look up individual video sessions.
VALT Software for OSCE Testing
Video for recording medical residency observation is rendered in standard .mp4 format and uses h.264 compression, minimizing demands on the network and ensuring recorded video is immediately available for viewing, with no lag time due to rendering.
The VALT video software supports a 'talkback' feature, which lets remote observers talk in real-time during the clinical to students equipped with earbuds. 'Talkback' is a powerful tool to correct or reinforce students' behaviors as they are happening, while the behaviors are still fresh in the students' minds.
Recordings can easily be started or stopped using an illuminated star/stop button or keypad mounted either inside or outside the room. This is particularly useful in OSCE testing scenarios where students are moving from room to room to demonstrate competency across different clinical skills.
Download sheet to see how VALT can be used in OSCE's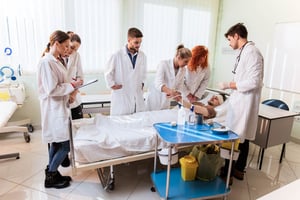 HIPAA Compliant Video Observation System
The VALT application was built with security in mind. The application has a robust security and permissions structure so only the properly authorized users can access the appropriate video both live and recorded. VALT also supports TLS video and data encryption for all in-transit network traffic. Due to our security conscience feature set VALT is the preferred video observation and recording platform for ACGME-accredited programs and clinics.
IVS can provide a complete turnkey solution that can be implemented by any internal IT department or by a third-party integrator. IVS works closely with every customer to ensure a successful installation of the VALT digital video system. Contact us at IVS to schedule a product demonstration or to request a quote.