HD Video & High Quality Audio
Our software integrates with the latest IP camera technology. Observe in real time or review recorded high definition video in 1080p resolution. Auto-gaining discrete microphones provide high quality perfectly synchronized audio, great for picking up soft voices.
Searchable Database
All of the videos are stored and managed by a built in searchable database. Tag videos with data like suspect/office name or case number for easy lookup and review.
Ease of Use
The VALT software is extremely intuitive and easy to use. Users are typically able to use the software with little to no software training or support.
Push Button Recording
Start and stop recording with the push of a button. The system also integrates with independent or in button LEDs providing a visual indicator as to when a recording is active
Markers
Tag specific points within a recording either during live observation or during the review process. These points can have searchable descriptions associated with them. These "markers" allow users to easily jump right to that point in the video, similar to chapters in a DVD.
Standard Video Format
The VALT software records video in a standard MP4 format. The benefit of this is as soon as the interview is complete it is ready to be burned to a DVD or saved to a flash drive, and the video files can be played back on any computer without special software or codecs.
Police Interview Room Video Recording Equipment
Recording police interviews allows no tolerance for unintelligible, missed or lost recordings. Every police interview recording video system should offer high-quality video and audio footage, yet be unobtrusive and simple to operate. Analog systems have been common police interview room equipment for a long time — indeed, back in 2001 the IVS team developed one of the first commonly-used law enforcement interview recording systems. Technology has advanced rapidly, however, and current IVS systems utilize HD IP camera technology to provide a cutting-edge police interview room video solution.
Police Interview Video Recording Systems by IVS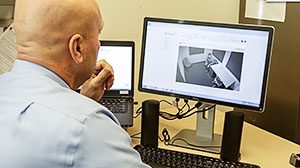 The VALT law enforcement video recording solution from IVS is a turnkey server and software video appliance that integrates with standard IP camera technology. Multiple police interrogation and interview rooms can be viewed and recorded simultaneously. All data is routed to a central server (we have video appliances capable of managing up to 50 cameras on a single platform). This eliminates the need of placing bulky and redundant police interview room recording systems throughout the department and provides users with a more reliable system with fewer failure points.
Axis IP cameras can be utilized with our system to record police interview sessions in high-resolution. Both fixed vandal-resistant dome and high definition (HD) covert cameras are available and integrate seamlessly with our application. Multiple cameras may be placed in each room, allowing users to observe and capture different angles. We typically combine our solution with sensitive auto gaining audio equipment that eliminates hum and high-frequency loss. This helps users easily identify what was said even in challenging audio environments.
The VALT video software I/O feature is highly useful for police interrogation recording. This feature allows users to start and stop a recording using a wall mounted push button. Our software is also able to light an LED either in the room or within the button to indicate when a recording is in progress.
Easy-to-Use Recording System for Law Enforcement Professionals
The law enforcement interview room recording system by VALT is renowned for its simplicity. Officers and other operators are able to use the system with little to no training. The VALT interview room recording software makes video capture, storage, and playback extremely easy. Police interrogation video playback can be viewed through any common internet browser, with no need for special software or plugins making deployment a snap.
A typical VALT video installation for police recordings can store around 16,000 hours of HD video, ensuring that countless sessions may be stored for extended periods of time. The software also has a flexible built-in retention automating the length of time videos are stored on the system before automatically being purged. Retention rules can be modified based on who or how the video was started and can be changed after the fact for specific recordings by authorized users.
VALT IP-based Software for Recording Police Interviews
The user-friendly VALT police interview video capture software easily replaces antiquated VHS, DVD and adapted DVR technology. Metadata is attached to each police interview session, enabling authorized users to locate individual sessions quickly, catalog them with further data, and search and retrieve any recording from a desktop computer, tablet, or other network enabled device. Prompt video availability is often important in a law enforcement video recording system. VALT video is recorded in standard MP4 format and uses h.264 compression, minimizing network usage and allowing easy storing and sharing of police interview video sessions. Unlike many other systems, once recorded VALT video has no lag time to render or format video — it is immediately available upon completion for review within our application or for download and export to DVD.
Mobile Police Interview Tools
Though usually operated as a fixed installation, police interview recording systems by VALT can also be made mobile. The Beam application allows operators to create a mobile police interview recording system. Operators remotely capture police interviews using an iPad or iPhone running our iOS application, and the software automatically syncs the video with the base server either over the departments secure network or when the officer returns department.
The VALT police interview room recorder is capable of producing extremely high-quality recordings of police interrogations and interviews. Combined with our feature-rich and powerful, yet easy-to-use police interview video recording software, VALT is the best video system for police interview rooms on the market — request a quote or a demonstration today.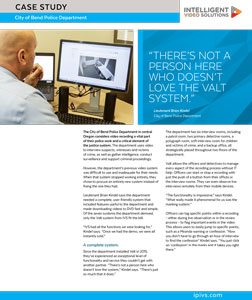 City of Bend Police Department Case Study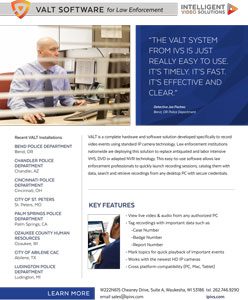 VALT Software for Law Enforcement