Ease of Use
The VALT software is extremely intuitive and easy to use. Users are typically able to use the software with little to no software training or support.
Standard Video Format
The VALT software records video in a standard .mp4 format. The benefit of this is as soon as the interview is complete it is ready to be burned to a DVD or saved to a flash drive. The video files can be played back on any computer without special software or codecs.
HD Video & High Quality Audio
Our software integrates with the latest IP camera technology. Observe in real-time or review recorded high definition video in 1080p resolution. Auto-gaining discrete microphones provide high-quality perfectly synchronized audio, great for picking up soft voices.
Push Button Recording
Start and stop recording with the push of a button. The system also integrates with independent or in-button LEDs providing a visual indicator as to when a recording is active.
Video Recording System for Forensic Interviews
Using digital video to record child forensic interviews has been found to enhance the ability to prosecute cases of child abuse. Video recording systems for child abuse interviews may also eliminate the need for the child to come into the courtroom and repeat the process. Additionally, using a child advocacy video system to produce high-quality interviews adds weight and credibility to the case, and allows easy review of the interview at any time.
A forensic interview is a structured conversation with a child intended to provide detailed information about possible events that may have been experienced or witnessed. Child forensic interviews can obtain information from a child that may be helpful in a criminal investigation, assess the safety of the child's living situation, gather information that may corroborate or refute allegations of abuse, or assess the need for medical and psychological care. Given the legal implications, recording child forensic interviews is of vital importance, creating an accurate and easily accessible record.
The VALT child advocacy recording equipment from IVS is a state-of-the-art digital video recording and management system for interview rooms. The VALT digital video recording system eliminates the need for bulky analog or DVR equipment to be placed in each room. Instead, VALT uses a centralized server that can support dozens of interview rooms and cameras simultaneously at a fraction of the cost of placing dedicated digital recording equipment in each room.
The VALT Video Capture Application for Child Advocacy
The VALT child advocacy center audio and video recording system is powerful, yet easy to deploy and operate. VALT uses high-quality IP cameras paired with microphones that auto-gain, ensuring that background noise and hum are eliminated. Recorded video is fed to the central server that, with our standard installation, can hold approximately 16,000 hours of high-definition video.
Video playback is easy — any user with the proper permissions may access video sessions using a common internet browser, such as Firefox, Chrome, or Safari. The VALT recording system for child abuse also features powerful tools that enable users to augment individual video segments with annotations, and each session is tagged with metadata to make it easy to look up any given session in the future. Operators can adjust settings to determine how long video sessions are stored on the network.
Child Protective Services Interviewing Equipment by VALT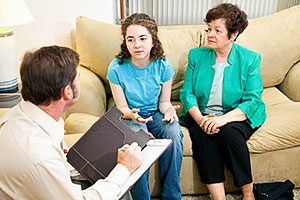 Our IP cameras are lightweight and easy to install and move. Cameras may be fixed or movable pan-tilt-zoom (PTZ) cameras and multiple cameras can be placed in an interview room to obtain several different angles when recording child forensic interviews. Operators can start and stop video recording remotely, or from within the interview room itself using buttons that may be mounted on any surface.
VALT video uses h.264 compression and standard .MP4 formatting, minimizing demands on the network. The video capture application for child therapy makes interview sessions immediately available on the network for viewing, with no lag-time for rendering or video formatting.
The VALT child forensic interview software has some extra built-in features, such as our "talkback" system. This system lets remote viewers communicate in real-time with the person(s) conducting the child advocacy interview, using hidden earbuds. VALT IP cameras and microphones are also extremely portable, letting operators record child forensic interviews from any location using a smartphone or a tablet, and the video is automatically synced to the central server.
Security of the VALT Child Advocacy Video Recording System
Because many of our customers must be fully compliant with HIPAA, all VALT video is fully secured, ensuring only authorized persons may access and view video sessions. All VALT video makes use of state-of-the-art encryption methods, user rights management structure, and user authentication procedures.
Child advocacy centers can purchase a turnkey solution from IVS, which can be implemented by internal IT departments, technology groups, or by a third party AV/IT integrator. IVS works closely with each customer to ensure a fully successful VALT video installation. Contact us to set up a demonstration or to request a quote.