Interview recording rooms in law enforcement agencies and police stations provide some of the most important evidence to affect outcomes in serious crime trials and investigations. To capture these pieces of evidence, these agencies rely on video-audio capture equipment and software. This technology must be some of the most reliable pieces of equipment, made readily available when needed. Modern video/audio technology systems have allowed agencies to do much more than record, they have been used to enhance the efficiency of the process and effectiveness of these suspect interviews.
As you evaluate law enforcement recording room systems use this reference guide to help answer what to look for and determine the features and capabilities most important for improving your agency's outcomes.
Take It With You!
Discover the important software features, storage, capabilities and support an interview video recording system should have to help improve efficiency and create faster results in law enforcement.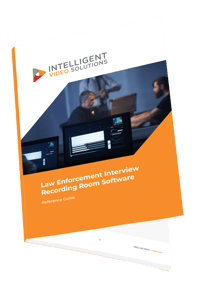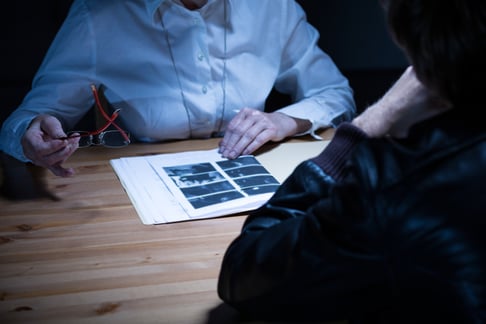 Why Video Software is important for Law Enforcement Interview Recording?
A/V capture systems with advanced software offers several advantages over traditional methods, as it provides a more comprehensive and accurate record of the interview process. Agencies can leverage a software system that takes the manual burden of video management off users, including the need to start recordings, upload, store and remove content. Beyond improving the interview recording process, video capture systems software can enhance the actual quality of evidence.
Here's how law enforcement can benefit from using video software systems to capture suspect interrogations:
Start, Stop and scheduled recordings in multiple ways.
Make quick clips of specific moments in long recordings to send to other departments.
Stream, store, and upload recordings from different rooms all in one piece of hardware.
Have multiple cameras synchronized to a specific room.
Search interfaces that help find specific content in databases with hundreds of videos.
Mark notes in videos at specific moments in videos to quickly reference.
But not all A/V capture systems are created equal. From ease-of-use features to scalability to service and support, sourcing an affordable solution that enhances your interview environment can be challenging.
How can government agencies use the same video capture system to improve all forensic interview outcomes? Watch an enterprise-wide system in action at Police Department and Child Advocacy Centers.
What software features to consider for a police interview room recording system?
The ideal video solution for law enforcement should seamlessly enhance their interview process without introducing unnecessary complexities or obstacles to getting a quality recording. The technology chosen should be robust enough to meet the specific needs of the programs while remaining user-friendly and easy to manage for all personnel involved.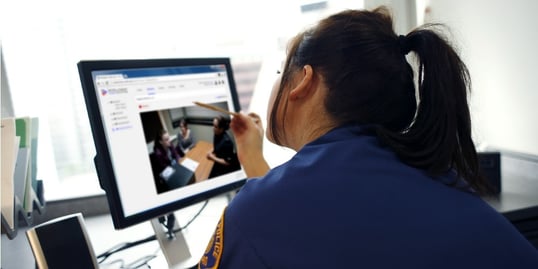 Minimal Training Requirements
Officers, Detectives, and Investigators should be able to master the system in minutes and get to using it right away. Minimal necessary training doesn't mean minimal support. Your provider should help to ensure everyone who needs to use the solution feels comfortable doing it.
Features That Increase Efficiency and Usability
Depending on the situation, users may not always be available to hit record for a session they need to observe. Having multiple options for starting and stopping video recording – including start-stop buttons, remote capabilities, and automated scheduling functions – empowers them to capture the footage they need from anywhere, even off-site. Preset functions for controlling pan, tilt and zoom functions on the camera ensure they can see all the angles they need, even if they're observing remotely.
Search Index Functions
Law Enforcement interview recordings need to be found quickly with the right individuals involved and sometimes only a small portion is needed among hours of video. Index and metadata can be used to reference relevant video information such as case numbers, incident types, and keywords, making it easier to search for specific footage quickly.
Video Sharing and Collaboration
Easy sharing and collaboration features enable teams to work together on investigations by exchanging evidence. The software should support exporting video files in standard formats for sharing with prosecutors, defense attorneys, or other law enforcement agencies involved in the cases.
Notes and Annotations
The software should allow officers to add notes and annotations during the interview process. These notes can serve as valuable context for the recorded video, aiding in the understanding and interpretation of the interview or to reference specific points during a video.
Questions You Should Ask Potential Providers
How long does it typically take a department of my size to get up and running with your solution?
What kind of training do you provide?
What are some ways other departments like mine have used your technology to increase efficiency?
Interested in how ease-of-use plays a key role in how effective your interview recording system is? Read our Blog: 10 Characteristics of An Easy-to-Use Interview Recording System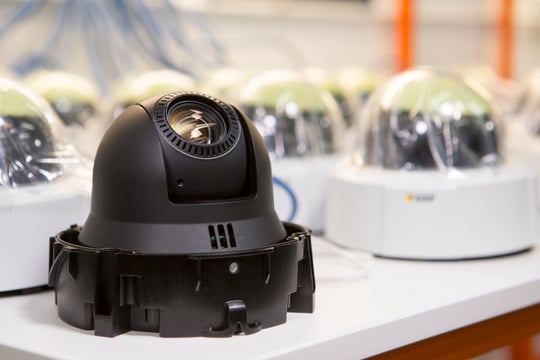 What A/V quality should a police interview camera need?
Your ability to observe, assess and offer feedback depends on being able to see and hear what's happening on the screen. Video capture solutions that invest in state-of-the-art cameras and microphones are more likely to deliver crisp, detailed visuals and precise sound reproduction.
Exceptional Clarity and Fidelity
Clear and detailed images are vital for identifying suspects and other critical evidence. Your provider should implement high-definition cameras, at or above the industry-standard resolution of 1080p, as well as auto-gaining microphones that automatically track and adjust the volume of recordings to pick up on soft voices.
Integrated Audio and Video
Video and audio must be perfectly synchronized so the integrity of video is clear and understood to exactly what's happening in the recorded session, right down to spoken words matching up with mouth movement.
Flexible Camera Controls
Anyone working with the camera should be able to intuitively pan, tilt and zoom to capture different angles or hone in on important details during observation.
Questions You Should Ask Potential Providers
What is the highest streaming resolution your technology offers?
How can I ensure that audio and video are synchronized?
How do users work the cameras?
Learn more about the recommended specifications for a law enforcement video recording software solution: Police Interview Video Recording System.
What storage and IT infrastructure should look like for a police interview recording system?
A single instance to manage a whole system for every camera in every room goes a long way in helping user efficiencies. Having sufficient storage capacities that can easily scale coupled with data management features such as automated removal based on user set variables can give admins and staff superior control over large amounts of content.
Centralized Video Storage and Management:
Centralized storage and management of video footage from various cameras and rooms. It enables law enforcement personnel to access and review video data from a single interface, streamlining investigations and saving time.
Secure Video Storage:
A secure and encrypted video storage system is crucial for safeguarding the recorded interviews. The software should ensure that the videos are stored in compliance with data protection regulations and can only be accessed by authorized personnel.
Storage Capacity and Scalability:
The system should have sufficient storage capacity to handle the data generated by the cameras. Consider whether the system offers on-site storage, cloud storage, or a combination of both. Additionally, ensure the system can be easily expanded to accommodate future growth and additional cameras if necessary.
Remote Accessibility:
The ability to access live or recorded video footage remotely is a crucial feature for law enforcement. Look for systems that offer secure remote access through mobile applications or web browsers to enable officers to monitor the situation from anywhere with an internet connection.
Why reliable video capture equipment is effective for police investigations?
The only effective video capture system is the one that's working when you need it. While most solutions claim reliability, a few factors will help you determine whether you can truly count on a provider to support your program.
Low Failure Rate
Product outages and problems with technology are even more negatively impactful in law enforcement. Your provider should be able to show a documented failure rate that's less than 1%.
Platform Consistency
When software is discontinued or proprietary hardware needs to be replaced, the customer often pays the price, in terms of both actual cost and product downtime. Look for a consistent platform that's upgraded regularly to stay current and introduce new features but never requires a full overhaul.
A Hardened System
Hardening an operating system helps prevent malware and malicious activity from penetrating the server, minimizing exposure to threats and mitigating the risk of a breach or a crash.
Questions You Should Ask Potential Providers
What is your documented failure rate?
How has your platform changed over the last five to 10 years?
What precautions do you take to prevent exposure to malware?
Want to learn more of how departments like yours are utilizing video software solutions to increase effectiveness of recording police interviews? Read our case study: City of Bend Police Department.
Software Security features for a Police Interrogation System?
Whenever video is used to record sensitive law enforcement interviews, it's critical to keep video data integrity through security measures. Each individual facility is ultimately responsible for implementing operational procedures and user protocols, but your provider can help protect the data you collect using video.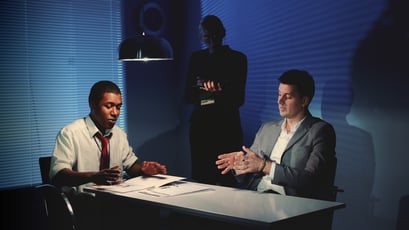 Password Encryption Options
A Lightweight Directory Access Protocol (LDAP) integration eliminates password storage within the video system entirely. If you aren't using LDAP, and passwords need to be created and stored in the system itself, they should be encrypted within the database.
Security Permission Features
To ensure users can only access content that pertains to them, a trusted system administrator should have full control over each feature, video stream and data point within the platform.
Audit Trails
Essential for tracking any changes made to the video files audit trails provide dated, timestamped records of login attempts, video stream access, recordings, playbacks, and administrative changes. This helps maintain a transparent chain of custody and ensures the integrity of the evidence.
Questions You Should Ask Potential Providers
What permission standards does your software deploy?
What security features do you have to regulate access to confidential data?
Do your support teams ever need to collect or transfer data stored within the system?
Why is a mobile recording software solution important in forensic interviews?
Not every important piece of evidence can be captured at the police station or sheriff's office. When conducting suspect interviews out on the field or in various locations utilizing the same video software features as in-house systems is just as important. See why having a mobile video software recording for police/law enforcement forensic interviews can add value to your complete system.
High Integrity Data
The first interaction with a suspect or witness may take place before they are asked to give an official statement in your on-premise interview recording room. Having a system that can be used wherever and then synced to include all the data about a certain individual or case means your evidence is as complete and authentic as possible.
Instant Deployment
Not sure you have the budget for a complete in-house observation recording software solution for forensic interviews? A mobile solution may come with fewer features but a lower-cost option for recording police interviews. A mobile application can also be applied to any device meaning any officer with a mobile device can have a powerful interview recording solution in their hands at any moment.
Unsuspected System Errors
Vital evidence as important as those capture in forensic interviews has no room for unsuspected system failures. If power outages or network failures cause fixed observation systems to suddenly not be operational a mobile recording system can come as a much needed alternative. With a mobile recording and observation software system, interviews can take place in emergencies or where a more flexible streaming or recording solution makes more sense.
Questions You Should Ask Potential Providers
How does your mobile application sync with your on-premise server?
Where is the data stored on a mobile recording software solution?
What features are not included in your mobile platform that are included in your on-premise system?
How do you consolidate interview recording system that can be deployed alongside a mobile video recording solution? Read more: A mobile recording solution should seamlessly integrate with a fixed interview recording room system.
What service and support interview recording systems vendors should provide?
An A/V capture provider that's invested in the success of your interview room recording system will provide exceptional service throughout your entire engagement. That starts with making sure you've chosen the right products for your agency and continues through training and ongoing support.
A Customized Configuration Process
Many A/V providers partner with outsourced integrators that take a one-size-fits-all approach to camera and microphone placement, forcing you to adjust your workflows to accommodate their system. A provider that collaborates with you and designs a configuration according to your needs will build upon existing processes.
Quick Installation Turnaround
Once you've decided to implement video or enhance what you're currently using, you shouldn't have to wait weeks to get started. An A/V capture provider that works to understand your needs up front and leverages manufacturer-certified experts for installation can get you up and running in a few days.
An Accessible Support Team
If you have a problem with your system, you don't want to be another ticket in a support queue system; you want answers quickly. A provider that prioritizes great customer service will staff a support team with dedicated experts, increasing first-call resolution percentages.
Questions You Should Ask Potential Providers
What is your process for designing each project?
How long does installation typically take?
What are my support options after the installation is complete?
Intelligent Video Solutions Software Options for Forensic Interviews
IVS partners with hundreds of Law Enforcement Departments and Child Advocacy Centers to implement audio/video solutions in new, renovated, and existing forensic interview spaces.
VALT (Video, Audio, Learning Tool) offers exceptional options for healthcare environments:
VALT for L

aw Enforcement

- The VALT audio-video solution for police and sheriff departments is a powerful, yet easy-to-use platform that allows multiple interrogation rooms to be viewed at once, all content can be accessed quickly and shared from one place, with the option to create short clips from hours of content.

VALT for C

hild Advocacy

- Eliminate the need for a child to come into the courtroom or provide multiple testimonies with a video system that takes high-quality video and audio from discrete or movable cameras. Software to mark notes and comments that can help find specific moments and store all information securely through encryption methods.
How A/V Capture Helped Detective Interview Rooms
See the impact of an easy-to-use and efficient video solution at the Bend, Oregon Police Department.