HD Video & High Quality Audio
Our software integrates with the latest IP camera technology. Observe in real-time or review recorded high definition video in 1080p resolution. Auto-gaining discrete microphones provide high quality perfectly synchronized audio, great for picking up soft voices.
Searchable Database
All of the videos are stored and managed by a built-in searchable database. Tag videos with data such as student/client name or therapy type for easy lookup and review.
Talkback
Instructors can talkback into any room to provide live feedback using our browser based software client. On the other end the clinician typically wear a small earpiece.
Security & Compliance
With comprehensive user management rights, a detailed audit log and optional encryption our video solution offers some of the most advanced security features in the market. These built in features can help maintain your compliance standards (HIPAA/HITECH).
Recording Solution for Social Work Training
When it comes to providing a well-rounded education for students pursuing a career in social work, textbooks and class discussion simply is not enough. Real-world experience and practice of the theories are important aspects to help a student develop the skills needed to enter their career. Doing rather than seeing can allow students to test what they learned inside the classroom and see their knowledge in action. Additionally, real world experience is the only way students can develop the soft skills that are difficult to teach and are required as a social worker.
Although most of a student's hands-on social work is done with peers, teachers, or even with actual clients, some social work educators are adapting simulation for their own training needs. Predominantly used in healthcare professions such as medicine and nursing, simulation is growing in popularity among social work educators.
While simulation in the world of nursing and medicine generally utilizes low and high-fidelity manikins for students to test their skills, social work simulation enlists real people (referred to as standardized patients) for students to test their skills with.
Standardized patients are trained to imitate many common and rare situations a student will face during their career. One major benefit using standardized patients provides is the ability for students to experience uncommon or even potentially dangerous scenarios in a safe environment where they can learn without fear or undue stress. This gives students practice on situations that may be rare, but they will still need to be prepared for.
Recording Social Work Simulation Sessions
While implementing standardized patients into your social work education curriculum has the potential for massive education benefits for students, there is one more step needed to maximize your training efforts.
Debriefing is an essential part of social work and other health sciences education. Discussing what went well and what needs improvement with a student is one of the final keys for real knowledge retention and helps students understand what to focus on in their studies.
However, debriefing off memory alone has its own drawbacks. It can be easy for educators to miss tiny details when trying to watch a situation closely and also evaluating a student's performance at the same time. Additionally, when a student receives feedback on their performance, it can be difficult for them to remember or visualize what they were doing and how they should correct that behavior.
This is why most training and education simulations (whether with a manakin or standardized patient) are being recorded.
When a student's simulation session is recorded, an educator can take their time reviewing a student's performance. With a recorded video, an educator can pause, rewind, and fast-forward as needed to ensure they don't miss a single moment. In addition, educators can review the video with the student so that the student can see exactly what they are doing and understand how to correct their behavior for next time.
OSCE for Social Work
While the most obvious use of a video system for social work is education, it has many additional uses as well. For example, OSCEs (Objective Structured Clinical Examinations) are quickly being adapted for the world of social work. Generally used in health sciences, an OSCE is usually comprised of a circuit of short stations in which each student is examined on a one-to-one basis with one or two impartial examiners and either real or simulated patients.
To properly evaluate a student taking an OSCE, it is important to remain as objective as possible and the best way to do that is to not be forced to evaluate in the heat of the moment or off memory alone.
Scientific studies have shown that real-time evaluation and video reviews tend to produce a significant difference in evaluations and ultimately pass/fail determinations. By utilizing video recording for student examinations, an educator has the best opportunity to remain as objective and impartial as possible and provide a student with the best possible evaluation.
Speech Language Pathology
Click on the play button to find out how TWU is leveraging VALT to record speech language pathology sessions. Learn More >
Psychology Training
Click on the play button to find out how USC is leveraging VALT to record student/patient psychology sessions. Learn More >
VALT Recording System for Social Work Education
The VALT video recording and observation platform was designed to provide an easy-to-use video solution for higher education programs such as social work.
The VALT solution is an incredibly simple but powerful tool that can be learned in minutes. Basic observation and recording tasks are often picked up intuitively without the need for any extensive training or technical support. Our interface minimizes complexity and points of failure so that your recording system is always there when you need it for critical educational tasks.
Deployment is also a breeze while maintaining enterprise-level features. VALT utilizes a browser-based client, so no software or plug-ins are required. Our user management and security/permission structure make it easy to keep video segmented by departments or ensure sensitive patient data is always secured. With VALT you can scale to any number of cameras and users all while incurring no per client license structures or budget-crushing annual maintenance contracts.
VALT provides both on-site and mobile solutions for the recording of social work sessions. Multiple cameras may be grouped in rooms and synchronized together. In cases where an off-site application is required, such as for recording at a remote clinic or office, our new IVS Beam application allows users to capture sessions using an iPad. Beam enables users to record sessions remotely and automatically syncs the video with the VALT server when the user returns.
VALT has been specifically designed for use with high-definition network cameras. Customers can choose from a broad range of high-definition pan-tilt-zoom (PTZ) and fixed cameras. The cameras are combined with high-quality microphones and audio equipment which provide a high-definition audio and video experience.
Video Security for Social Work Education Recording
The VALT video software provides all necessary user rights management, encryption, network architecture, and authentication required to make all clinical video content fully secure. Video sessions are available only to those who possess the necessary permissions.
With comprehensive user management rights, a detailed audit log and optional encryption, our video solution offers some of the most advanced security features in the market. These built-in features can help maintain compliance standards (HIPAA/HITECH).
Our system has been designed from the ground up with sensitive recording data in mind and as a result our granular customizable user permission structure fits the unique and challenging needs of our customers.
Our system allows for both full SSL web traffic encryption as well as RTMPS video stream encryption. These security methods are often a compliance requirement in regards to sensitive data.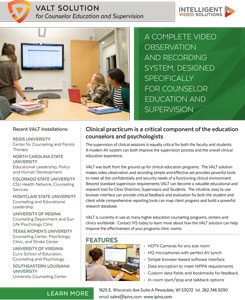 VALT for Counselor Education and Supervision