HD PTZ Camera Support
Easily control HD Pan-Tilt-Zoom (PTZ) cameras through our software interface. We can also create or jump to predefined positions "presets" when our system is paired with PTZ enabled cameras.
Clipping
The application features an easy to use editing tool. This allows the creation of smaller clips from a larger video without affecting the original video.
Markers
Tag specific points within a recording either during live observation or during the review process. These points can have searchable descriptions associated with them. These "markers" allow users to easily jump right to that point in the video similar to chapters in a DVD.
Standard Video Format
Video files are recorded in a standard .mp4 format. Files can be downloaded and played back on any computer or tablet without the need for special software or codecs.
Video Recording System for Veterinary Training
Video capture systems for veterinary schools are now widely employed as powerful training aids, assisting students learning veterinary medicine to enhance and augment the skills they learn in the classroom. Older systems, using analog or DVR technology, are bulky, difficult to operate, and time-consuming for instructors and students alike.
The VALT video solution from Intelligent Video Solutions, however, provides state-of-the-art video capture for veterinary programs at low cost and with little maintenance or training required. VALT uses high-definition IP camera technology and a centralized data hub, eliminating the need for space-consuming equipment in each lab room and enabling authorized users to access video from any device using a simple Internet browser.
Using VALT for Veterinary Training Observation and Assessment
Using video to help train veterinary students greatly increases skills and preparedness. Often, vet training programs set up "home rooms" or small group meeting rooms, each equipped with video capture systems. Instructors and students can use high-quality audio and video to record veterinary training sessions, and later analyze the results in order to augment the training that students receive in classroom settings.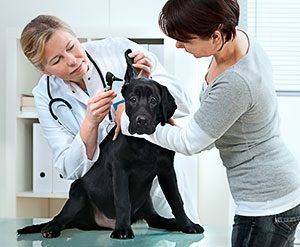 The VALT video system for veterinary schools allows users to observe and record multiple clinical rooms at the same time, with all data being fed to a single central server. This centralization allows easier access to video and removes the requirement to have equipment placed in every room, creating a more reliable system with fewer points of failure.
VALT video installs may use either fixed or PTZ IP cameras, and multiple cameras may be set up in the same room, to allow operators to capture veterinary simulation labs from several different angles. In most cases, our veterinary training recording systems are paired with auto-gaining audio equipment that erases hum and high-frequency loss, creating crisp and clear audio even in difficult environments.
VALT video can also be set up for use in mobile installations. Operators recording veterinary training with video employ an iPad or iPhone running our dedicated application. Once the operator returns to the central location the video is downloaded and automatically syncs with the main VALT server. This provides a secure and simple method for capturing and managing content recorded offsite.
VALT Software for Veterinary Training Recording
The powerful VALT video software is extremely user-friendly and requires little up-front training. Features include a wall-mounted button that users may utilize to start and stop recordings. Additionally, our "talkback" feature allows instructors to communicate in real-time with veterinary students during the simulation. The VALT software allows individual veterinary training recordings to be stamped with metadata, notes from instructors, and additional information, allowing a particular capture session to be located quickly and with all pertinent information.
Our typical video installation for veterinary training clinics contains an enormous amount of storage space — enough for around 16,000 hours of stored video. Settings enable instructors to pre-determine the length of time that video is retained before being purged. VALT video uses .mp4 formatting and h.264 compression, minimizing network demands and permitting video to be available instantly after recording, with no lag-time commonly associated with video formatting and rendering issues.
Privacy and Security of VALT Video Capture for Veterinary Training
VALT veterinary training recording software secures all video content through encryption, user rights management structure, user permissions, and user authentication. Only persons with the proper permissions and authentication are able to watch video training sessions.
Veterinary programs may also obtain a turnkey solution from IVS, which may be installed by an internal IT department, classroom technology group, or by a third-party AV/IT integrator. Regardless of the method, IVS works with customers to ensure a successful installation of the VALT system. Contact us to request a quote or to schedule a demonstration.